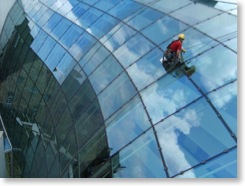 Rope Access Solutions is recognised as being on the leading edge of height access and safety in Queensland.
RAS is committed to:
Providing competent rope access technicians who have been trained to the highest industrial rope access standards.
Ensuring an innovative and cost-effective solution to difficult to reach locations on building and structures.
Using only the best quality and most appropriate equipment available on the market today.
Compliance with the relevant codes, standards and industry regulations at all times.
Please Note – To comply with Building services Authority (BSA) Rope Access Solutions is allowed to perform building service work to the value of $3300. Cleaning services can be done to any value.
For building services work above $3300, Rope Access Solutions has a sister company called Access Maintenance and Repairs
www.accessmr.com.au
with the required BSA licence to perform building services work to any value.
Both businesses are proudly managed by the same professional team.